2017 Trending Topics in Nursing Conference – October 12 – October 14th

The annual conference of the Alaska Nurses Association is a continuing education, networking, and membership event. This year's conference will be held on Thursday, October 12th, Friday, October 13th, and Saturday, October 14th in Anchorage, Alaska at the BP Energy Center. Interactive presentations are offered from a variety of experts. Presenters include registered nurses, advanced practice registered nurses, physicians, doctors of nursing practice, and social and community services professionals. The Alaska Nurses Association is an approved provider of continuing nursing education by Montana Nurses Association. Registered Nurses, Advanced Practice Registered Nurses, Licensed Practical Nurses, and Student Nurses are encouraged to attend. The purpose of this conference is to enable nurses to gain knowledge regarding emerging and trending topics in nursing throughout the State of Alaska.
Not only will the conference provide for a variety of educational events, but also a variety of other exciting activities, with the opportunity to earn over 10 contact hours! There will be a Roaring 20's themed Nurses Night Out! event where the Alaska Nurses Association hosts an end of conference celebration, allowing nurses to network with each other in a fun and casual environment. For the first time ever, vendors will be brought in to sell various items throughout the Conference for guests to peruse! Finally,  on October 14th, we will have a speaker discussing the Nurse License Compact followed by the 2017 General Assembly  will commence, providing a review of the year past as well as a chance to shape the year to come, followed by a Post-Conference Workshop on Saturday afternoon. We have special AaNA Member and student pricing!
Contact
Dani Wildermuth, Conference Coordinator
dani@aknurse.org
907.274.0827
Andrea Nutty, Projects Director
andrea@aknurse.org
907.274.0827
Participants registering October 7th or later, and day of conference, will be charged a late registration fee!

Are you looking forward to our AaNA Week?! Check out our fun events planned by going to our Social Media Pages and reserving your tickets!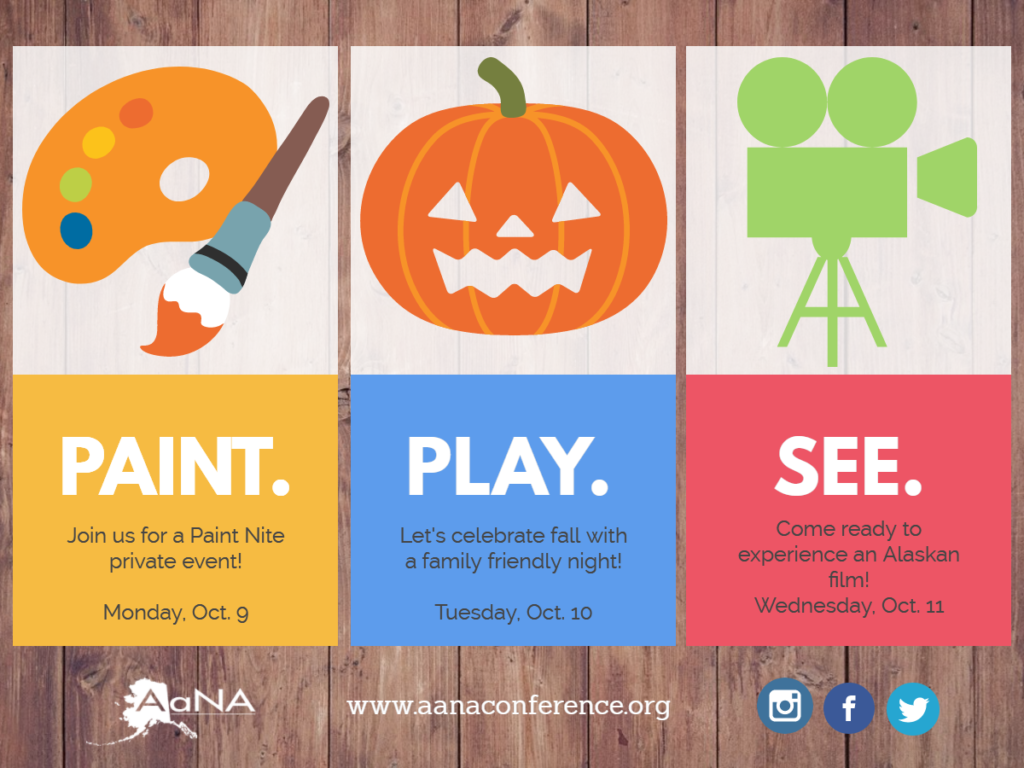 Want to attend Paint Nite? Click here!
Want to view We Breathe Again: four stories of heartbreak and healing? Click here!
Conference Refund Policy:
Registrations cancelled more than 60 days before the event will be refunded 80% of the registration fees.

Registrations cancelled less than 60 but more than 30 days before the event will be refunded 50% of the registration fees.

Registrations cancelled after September 25th, 2017 will not be eligible for a refund.
Refunds will be made in the following way:
Please contact our office at 907-274-0827 or email Conference Coordinator: dani@aknurse.org to receive the refund via Paypal.
Disclaimer: If you have not completed registration in payment BEFORE October 12th, you will pay conference day fees.